I've been thinking and thinking of ways to have a playroom for the kids. The toys have taken over our living room and it is hard to relax knowing you have all of that to pick up all the time...especially if you have company. We have an extra room upstairs, but it is a walk-through area to get to our room and the hallway to the other bedrooms, so we can't have toys out there or we would fall all over the place up there walking through.
I finally thought of a solution last week and talked to Brandon about it and we got it done this weekend. We had a sitting area when you first walk in the house where we just had our piano and computer. Because it is off to the side, it makes a really good toy area. We don't have to worry about people walking through the mess. So, we made this our play area. We moved our extra couch and tv downstairs from the loft area and all the toys into that room. Now Lillian can play and watch her Elmo or other shows and we can still have our living room to watch whatever we want with her just in the other room so we can supervise! I've very pleased with it and loving it more each minute.
My next project is to put pictures up of each of our family members to help the kids practice learning their names. It is hard for them to remember since we don't see most of our families but once a month or less than that sometimes. Here are some pictures of the before and after of what we have done so far. I don't have any of the loft yet as we are still figuring out what to do up there.
Sitting area before: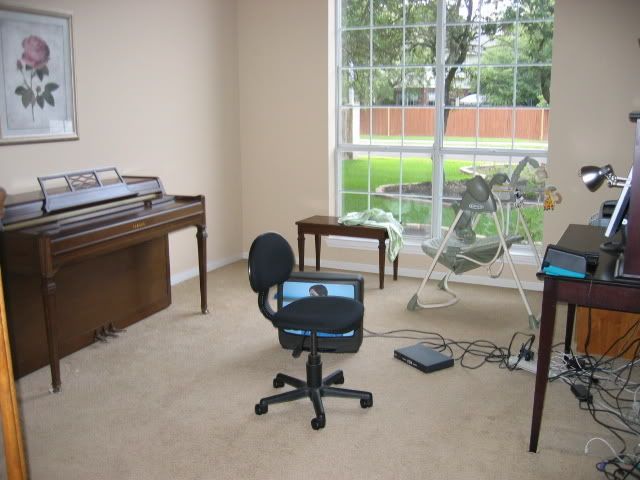 Sitting area or now play area: